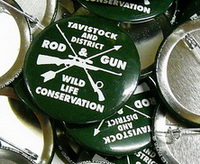 Annual memberships include OFAH membership and OFAH provided liability insurance.

Membership Rates:
Individuals are $250 for 1st year and $200 annually after the first year.
Family memberships are $250 annually.*
Dues are payable by March of each year and are subject to change.**

*Eligible for a family membership are; the club member, his/her spouse and their dependents under 21 years of age.
**The club does not offer prorated memberships for new members who join our club after March.


Club meetings are held on the fourth Thursday of the month, often with a guest speaker on topics of interest

Members are also kept updated through a monthly newsletter.

The club interacts with other similar clubs in the community, adding to both the social and competitive nature of activities and events.

New Membership Application and Range Rules
(both forms must be completed and signed)

Members renewing their membership need to submit a signed copy of the
Range Rules only with their yearly Individual or Family Membership dues.



NOTES:

- Only completely filled out applications accompanied by a payment for "Year one" dues and a signed Range Rules form will be reviewed and taken into consideration. (if paid by cheque please make your cheque payable to "Tavistock and District Rod & Gun Club")

- New applications (mailed in by the applicant or delivered by the sponsor) will be reviewed by the executives and announced at the next General meeting to provide the current members opportunity to give feedback at the meeting or in the weeks that follow.

- If the application is approved, one of the executives will then invite the applicant to be formally welcomed into the club at the following General meeting. The applicant has to be present at this General meeting to be welcomed into the club and to receive important information, i.e. on how to obtain their access card. In case the applicant is not able to attend this meeting he/she has to come to the following meeting to get welcomed into the club. No exceptions will be made to this requirement. Dues will not be refunded if the applicant does not show up at the General meeting to be formally welcomed into the club.
Please note that there will be no monthly meetings in July and December.

- After being welcomed into the club there will be a mandatory range safety instruction that needs to be completed. Dates for these instructions depend on the Range Officers (RO) availability.

- In order to bring Restricted Firearms to our range a separate practical range safety course needs to be completed. This course will run twice a year, once in the spring and once in the fall at additional cost. Use of restricted firearms and ammunition is included in the cost.

- Our club is a non profit organization and in order to keep our dues affordable we expect members to volunteer/participate for at least 6 hours per club year in events, clean-up days, fundraisers etc. If this participation requirement is not being met by the member then there will be a $100.00 surcharge at the next renewal.

For more information please contact us.